This blog post is also posted on Nature Conservancy of Canada's Land Lines blog here.
I spent many of my formative years as a field biologist in the Carolinian region of southern Ontario. The landscape is highly fragmented. It's largely agricultural with bits of restored tallgrass prairie and scattered tracts of Carolinian forest. It's one of the most biodiverse places in Canada and has more endangered and rare species than any other lifezone in this country. I spent time getting to know the area while collecting data for my master's research, tracking badgers and finding snakes and turtles for work. In many ways it was comfortable place to be; I was familiar with the area, the community and the biodiversity. But a change of scenery can be a good thing too.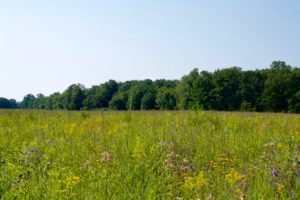 Three months ago I moved to work in a new region, Happy Valley Forest, which is located in King Township, just north of the Greater Toronto Area. At more than 1500 acres, it is one of the largest remaining tracts of forest along the Oak Ridges Moraine. It's only about a two-hour drive from the Long Point area, but the differences are distinct. I was sad to leave that familiarity behind, but I was also excited to start a new adventure. Of course, anything new comes with new challenges.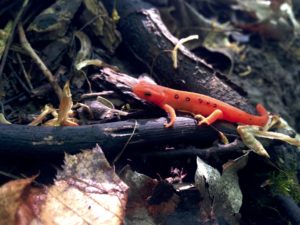 My past home in Norfolk County is a much more rural area. Farmland is the dominant landcover type intersected by country roads and dotted with roadside vegetable stands – which I miss very much. The atmosphere is just a little bit more relaxed and laid back. In contrast, Happy Valley Forest is surrounded by the growing pressure of urban development. I live outside the big city, but the hustle and bustle of urban sprawl is ever present and it was a bit of a shock moving here! Cars weave in and out of lanes without signalling, drivers honk uncontrollably and they rarely let you into their lane – alright, there might some slight exaggeration. While many people are driving their shinny fancy cars to their offices, I often feel judged for driving my well-worn Matrix that's obviously seen a few dirt roads!
The terrain is another noticeable difference. There can be some steep ravines in the Carolinian region – I got to know them well while looking for badgers. But overall the landscape is pretty flat and easy walking. Happy Valley Forest, on the other hand, sits on the Oak Ridges Moraine, a prominent geological feature in the Ontario landscape. In the last glaciation, about 13 000 years ago, glaciers deposited sediment as they moved along creating deep valleys and hills – a moraine. By southern Ontario standards, it's one of the more challenging terrains to hike. Historically, the area was logged. Due to the difficult conditions of the logging camps and the hilly terrain the workers jokingly named the area: Happy Valley Forest or more perhaps accurately, Pinchgut. Hiking here took some getting use to. Nonetheless it makes for a good workout and a beautiful landscape to work in.
One of the more difficult things to overcome was accepting that I would not see all of the same species that I was use to seeing further south. In my mind, the appeal of the Carolinian region is the vast biodiversity. It's the northern edge of the range for many species that are uncommon or don't occur in other parts of Ontario. The Carolinian region is also a hub where many conservation organizations focus their efforts on protecting the remaining species and their habitat. I knew when I moved, I would no longer see the species that I got to know well there – spicebush swallowtails (or spicebush the understory shrub), tulip trees, badgers, foxsnakes, hognose snakes and many others. Happy Valley Forest doesn't have the diversity that the north shore of Lake Erie does. But contrary to popular belief, high biodiversity and rare species isn't everything.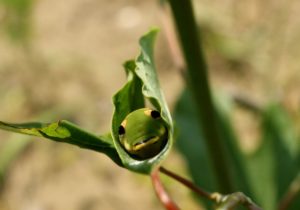 For me, one of the big draws to Happy Valley has become the expansive forest. Much of southern Ontario would have been covered with deciduous or mixed forests with a few openings for prairie species. The forest in Happy Valley has regenerated in the last few hundred years and is expected to reach 'old growth' status in the next 50 years. Once in Happy Valley Forest, you are surrounded by trees as far as the eye can see. It's hard to believe that once upon a time, much of southern Ontario would have looked this way. Having such a large and well connected landscape means that it's more resistant to natural disturbances and disease; animals that have large habitat area requirements can thrive; and that there is a large interior forest – the deep woods, for those species that depend on that type of habitat. Ecologists say that the deep woods begin 100m in from the forest edge. Therefore, large forests like Happy Valley that have sizeable interior forest are critical places to protect.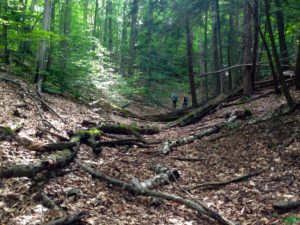 Working in each new natural area has its charms. I'm fortunate enough to get to know these places a little more intimately than most. Moving to a new one can often feel like starting from the bottom again. However, I've learned that my previous experiences in different areas and ecosystems each contribute to every new experience. As scary as change can be, it's how we learn and grow. And anyway in a field as complex and difficult as ecology, maybe every year should be called a 'formative year'.