It has barely felt like winter here in southern Ontario. There have been times I felt over dressed in a winter coat in last few months. Granted, I am currently further south than I have been in previous winters and I expected it to be more mild, but to still experiences temperatures consistently below zero. Seems like one day it might feel like -20°C and the next is +8°C.
There might be a few things to dislike about winter: it's cold, shorter days, roads are slippery, salt is everywhere, shovelling etc. I can't say winter is my favourite season, but what I do love about living in Ontario is the experiencing the change in season, including winter.
It might take a little more motivation and preparation to get outside, but it's always worth it. I've been out a few times visiting some of the treasures in Norfolk County after a snowfall, such as Jackson – Gunn Old Growth Forest and Backus Woods.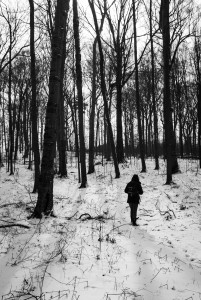 The summer might be lush and green, but I love the freshly fallen snow and there's something about the bare trees in winter that is revealing about a forest.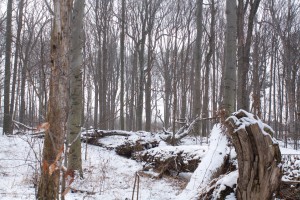 Evidence of animals is everywhere and it's a good season to really test how well you know your trees, I'm working on mine – feel free comment and correct my IDs.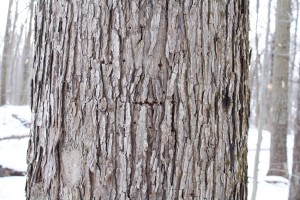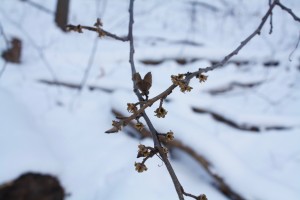 We also came across a few mushrooms.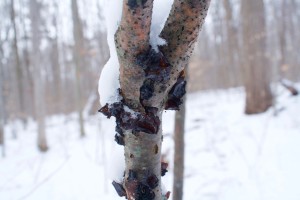 I'm delighted to come across animal tracks and figure what they are, where they came from or where they were going.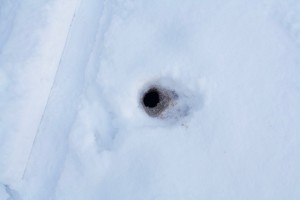 I wonder about where all the insects and frogs might be hiding under the leaf litter or rotting logs.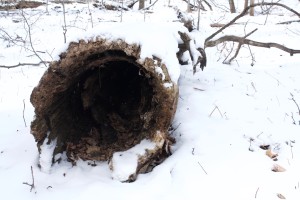 Winter is an important season, all our native plants and animals have evolved to survive such conditions. Many go into some kind of dormancy over winter, and the warm spurts may disrupt their natural patterns. I've heard reports of frogs calling in late December, plants already starting to flower or leaf out and a snake sighting in January! Perhaps a year like this once in awhile will do little harm to these populations in the long run, but unfortunately, I think there will be more to come.
While we enjoy this so-called beautiful weather, mild temperatures and good driving conditions, let's not forget that we do live in Ontario – cold and snowy winters are an expectation. To me, this wacky weather makes me seriously concerned about what it means for every other living thing and what it means in the long term for all of us. The natural world is already under pressure. Sometimes we forget that we are one in millions and millions of species that exist.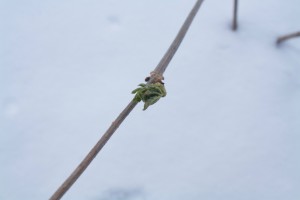 I wonder how warm spells might affect flowering plants that might have already started to bud, will they have enough energy to do this again when spring comes around? Will insects wake up and die off from a sudden freeze? How will that affect plants that depend on pollination? Or the aerial insectivores that are already in decline? Will other animals expend more energy than normal and how will it affect them in the upcoming year?